Wild Dunk
JP name
ワイルドダンク
Dub name
None
Data
Type
Element
Characteristic
Normal
User
1
Evolution
Normal → V2 → V3 → V4 → Z → ∞
TP Consumption
Debut
Game
Inazuma Eleven GO Galaxy
Anime
Episode 006
Wild Dunk (ワイルドダンク, Wairudo Danku) is a catch hissatsu used by Ibuki Munemasa.
Wild Dunk debuted in episode 6, successfully catching Cole LaRuze's third attempt of Megalodon. It was used again to stop Megalodon used by Octa Pasun and was successful.
Wild Dunk was used again in episode 7, and yet again stopped Megalodon from Octa Pasun.
It was used in episode 13 in the match against Mach Tiger. Ivory Crash broke through it, due to that it was too fast for Ibuki to stop, and scored. Later, Ibuki succeeded in catching Ivory Crash on time on its second attempt.
It appeared again in episode 14 in the practice match against Resistance Japan. Ibuki used it but failed because White Hurricane was too fast for Ibuki to bring his hissatsu fully out.
Ibuki used Wild Dunk in the match of Inazuma Japan and Storm Wolf in episode 15. He tried to catch Gold Fever with it, but failed, resulting in them scoring the first goal.
It was used again in episode 16 in the match against Storm Wolf. Ibuki used it twice, with failing at the first attempt but with the second attempt, he succeeded in stopping Gold Fever.
It was used again in episode 23 in the Grand Celesta Galaxy tournament against Sandorius Eleven. Ibuki failed to stop Kazerma Woorg's Dust Javelin by using Wild Dunk.
The user runs up and jumps, whilst lifting their right arm high. Then they throw their hand down forcefully, creating a orange hand to stop the shoot on the ground. The hand makes a massive hand print.
Slideshow
Edit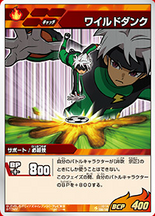 Ad blocker interference detected!
Wikia is a free-to-use site that makes money from advertising. We have a modified experience for viewers using ad blockers

Wikia is not accessible if you've made further modifications. Remove the custom ad blocker rule(s) and the page will load as expected.