Trace Press
JP name
トレースプレス
Dub name
None
Data
Type
Element
Characteristic
Normal
User
1
Evolution
Normal → V2 → V3 → V4
TP Consumption
Debut
Game
Inazuma Eleven GO Galaxy
Anime
Episode 013
Trace Press (トレースプレス, Torēsu Puresu) is a block hissatsu used by Minaho Kazuto.
This hissatsu debuted in episode 13. After Manabe Jinichirou had used Defense Houteishiki to tackle Sarit Charat, he got tackled, which was when Minaho then used Trace Press to successfully tackle Bark Sepakro.
It reappeared in episode 17, as Minaho used it to steal the ball from Aaron Gachinsky and he succeeded.
The user comes up from behind the player in possession of the ball, and imitates their exact movements, while doing skills with the ball. Once the user gets more close to the player, the user tackles the opponent, gaining possession of the ball.
Slideshow
Edit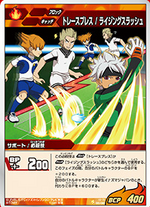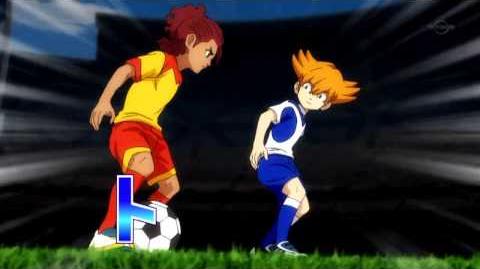 Ad blocker interference detected!
Wikia is a free-to-use site that makes money from advertising. We have a modified experience for viewers using ad blockers

Wikia is not accessible if you've made further modifications. Remove the custom ad blocker rule(s) and the page will load as expected.