The Earth ∞
JP name
ジ・アース∞
Dub name
None
Data
Type
Element
Characteristic
Normal
Power
200
Shibire damage
10
Users
3
Evolution
Normal → 改 → 真 → 爆 → 極 → 神
TP Consumption
Debut
Game
Inazuma Eleven GO Galaxy
Anime
Episode 043
The Earth ∞ (ジ・アース∞, Ji Āsu Infiniti, lit. The Earth Infinity) is a combination shoot hissatsu technique used by Matsukaze Tenma, Shindou Takuto and Tsurugi Kyousuke.
This hissatsu was used in episode 43 in scoring the final goal for the Earth Eleven and barely got through Phobos Quasar and Bitway Ozrock, who attempted to stop it with Ixaal but failed.
The hissatsu will be unlocked at the end of the match of Earth Eleven and Ixal Fleet. After giving everyone courage with his words, Tenma, Shindou, and Tsurugi started to glow with their aura of their Soul. Then, the trio used The Earth Infinity with everyone's feeling and succesfully scored a goal.
Slideshow
Edit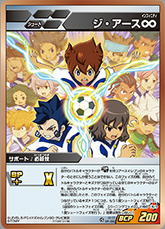 Ad blocker interference detected!
Wikia is a free-to-use site that makes money from advertising. We have a modified experience for viewers using ad blockers

Wikia is not accessible if you've made further modifications. Remove the custom ad blocker rule(s) and the page will load as expected.