Ryuuzaki Ouji (龍崎 皇児) is a defender for Teikoku Gakuen.
Appearance
Edit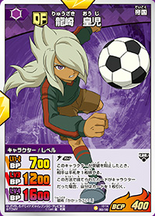 He is shown to have shoulder-length white hair that covers most of his face except the right side, and has the bangs. His eyes are colored light purple and wears the Teikoku Gakuen soccer uniform.
Ad blocker interference detected!
Wikia is a free-to-use site that makes money from advertising. We have a modified experience for viewers using ad blockers

Wikia is not accessible if you've made further modifications. Remove the custom ad blocker rule(s) and the page will load as expected.