Rob Stark (ロブ・スターク) is a forward for Big Waves.
Appearance
Edit
He has dark red spiky hair and green blue eyes. He also has tanned skin and wears the Big Waves soccer uniform.
He first appeared in episode 6 along with the other members of Big Waves. They played their second match against Inazuma Japan in the Holy Road Stadium. Rob was seen blocking Tetsukado Shin when Inazuma Japan had a throw in. However, Rob failed to block Tetsukado.
At level 99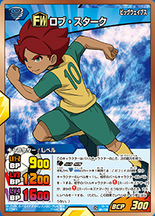 GP: 142
TP: 124
Kick: 138
Dribbling: 109
Block: 69
Catch: 64
Technique: 85
Speed: 95
Stamina: 114
Lucky: 104
Ad blocker interference detected!
Wikia is a free-to-use site that makes money from advertising. We have a modified experience for viewers using ad blockers

Wikia is not accessible if you've made further modifications. Remove the custom ad blocker rule(s) and the page will load as expected.