Parkour Attack
JP name
パルクールアタック
Dub name
None
Data
Type
Element
Characteristic
Normal
Power
110
Shibire damage
10
User
1
Evolution
Normal → V2 → V3 → V4 → S → ∞
TP Consumption
Debut
Game
Inazuma Eleven GO Galaxy
Anime
Episode 007
Parkour Attack (パルクールアタック, Parukūru Atakku) is a shoot hissatsu used by Matatagi Hayato.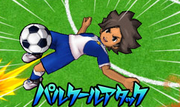 Parkour Attack debuted in episode 7, and scored the second goal for Inazuma Japan when they were playing against Big Waves.
It was used again in episode 9 in the match of Inazuma Japan and Shamshir. Matatagi scored the first goal with it, breaking through Sultan's Dry Blow.
It was used again in episode 12 in the match of Inazuma Japan and Mach Tiger. Matatagi used it to score a goal but he failed because it was stopped by Napa Ladam's and Yam Boapan's Death Scythe Middle.
It was used again in episode 17 in the match against Storm Wolf. Matatagi used it and succeeded in scoring the fifth and winning goal for Inazuma Japan.
In episode 30, during the game against Gurdon Eleven, Matatagi used it in an attempt to score a goal, but failed as it was easily stopped by Arbega Gordon.
Matatagi used it again in episode 37 in the match of Earth Eleven and Faram Dite. Matatagi received the ball from Shindou Takuto and quickly used Parkour Attack after he got the ball. He easily scored the first goal, making a tie of 1-1, and passed Argo Burgess.
The user runs with the ball, does a horizontal roll across and then jumps in the air, jumping from side of the screen to another. Then, the user jumps torwards the ball in the air and heel kick it, surrounding it in a blue aura, heading towards the goal.
Slideshow
Edit
Ad blocker interference detected!
Wikia is a free-to-use site that makes money from advertising. We have a modified experience for viewers using ad blockers

Wikia is not accessible if you've made further modifications. Remove the custom ad blocker rule(s) and the page will load as expected.