Mikado Haruma (御門 春馬) is the captain and a forward for Teikoku Gakuen.
Appearance
Edit
Mikado has light grey-blue hair and three scars; one near his right eye, one on his left cheek and one on his right arm. Also he is a muscular figure with his big arms. He wears the Teikoku Gakuen soccer uniform with a red captain band.
He first appeared in episode 1, being captain of Teikoku Gakuen and played against Inazuma Japan. When the match started, he was easily dribbled by Shindou Takuto. He used Koutei Penguin 7 but Ibuki stopped it. Mikado wanted to steal the ball back from Ibuki but Ibuki dribbled like he was playing basketball, which surprised Mikado. Later, he got easily dribbled by Shindou again. At the end of the match, Teikoku won with 10-1. When Mikado shook hands, he said that Inazuma Japan was the worst team ever.
At level 99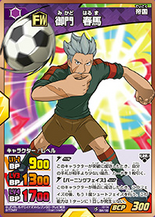 GP: 122
TP: 162
Kick: 128
Dribble: 116
Block: 112
Catch: 53
Technique: 149
Speed: 88
Stamina: 78
Lucky: 79
Ad blocker interference detected!
Wikia is a free-to-use site that makes money from advertising. We have a modified experience for viewers using ad blockers

Wikia is not accessible if you've made further modifications. Remove the custom ad blocker rule(s) and the page will load as expected.