Megalodon
JP name
メガロドン
Dub name
Megalodon
Data
Type
Element
Characteristic
Normal
Power
60
Shibire damage
20
User
1
Evolution
Normal → 改 → 真 → 爆 → 極 → 神
TP Consumption
Galaxy
30
Debut
Game
Inazuma Eleven GO Galaxy
Anime
Episode 006
Megalodon (メガロドン, Megarodon) is a shoot hissatsu used by Cole LaRuze and Octa Pasun.
This hissatsu appeared in episode 6, used against Shinsei Inazuma Japan and succeded in scoring twice. However the third attempt was saved by Ibuki's new hissatsu Wild Dunk.
It appeared again in episode 7, this time used by Octa Pasun, but was stopped yet again by Wild Dunk.
The user is surrounded by water and swings his right arm to the right side. The user lifts his right leg and then, kicks the ball, covered by blue aura. The ball goes towards the goal with a giant shark following it.
Slideshow
Edit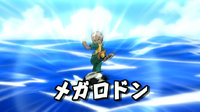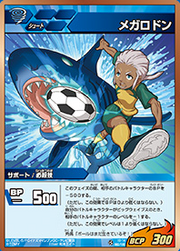 Ad blocker interference detected!
Wikia is a free-to-use site that makes money from advertising. We have a modified experience for viewers using ad blockers

Wikia is not accessible if you've made further modifications. Remove the custom ad blocker rule(s) and the page will load as expected.