Lee Chunyun (リ・チュニュン) is a forward and the captain for Fire Dragon.
Appearance
Edit
His hair is light dark green, his eyes are yellow black and wears black glasses. He is quite tall and wears the Fire Dragon uniform with a light yellow captain band.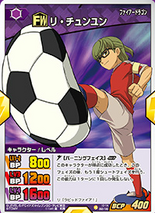 He first appeared in
Episode 2
with his teammates in the match against
Inazuma Japan
. He easily passed
Tetsukado Shin
and
Manabe Jinichirou
. Then, he shot at the goal but
Shindou Takuto
stopped his shoot but Shindou commented that the shoot was powerful.
In Episode 3, the match continued and Chunyun used his Rapid Fire for the first time. Inazuma Japan's goalkeeper, Ibuki Munemasa, couldn't stop the shoot and Chunyun made the score 0-1 for Fire Dragon. Later, he tried to stop Matatagi Hayato from advancing the field and Chunyun also got the ball but Matatagi was faster than him, which surprised Chunyun. After Matsukaze Tenma scored with God Wind, he couldn't believe that Inazuma Japan tied to score and received the ball from his teammate. He shot with Rapid Fire again but this time, Shindou stopped the shoot with his block hissatsu, Einsatz, and shocked him. At the end of the match, Fire Dragon lost with 2-1 with Tsurugi Kyousuke scoring for Inazuma Japan with his Devil Burst at the end. When the changing room of Fire Dragon was shown, Chunyun clothes and glasses were on the floor with green slime on it, without any hint of Chunyun himself.
Game Exclusive Teams
Edit
Due to his fast speed, he is known as Korea's breeze.
Ad blocker interference detected!
Wikia is a free-to-use site that makes money from advertising. We have a modified experience for viewers using ad blockers

Wikia is not accessible if you've made further modifications. Remove the custom ad blocker rule(s) and the page will load as expected.