Koutei Penguin 2gou
JP name
皇帝ペンギン2号
Dub name
Emperor Penguin No. 2
Data
Type
Element
Characteristic
Shoot Chain
Users
3
Evolution
Normal → V2 → V3 → V4 → Z
TP Consumption
Galaxy
55
Debut
Game
Inazuma Eleven GO Galaxy
Anime
Episode 039
Koutei Penguin 2gou (皇帝ペンギン2号, Kōtei Pengin Nigō, lit. Emperor Penguin No. 2) is a combination shoot hissatsu technique.
It is used for the first time by Kuroiwa Ryuusei's stand-in android, along withg Ryugel and Gandales to score a goal against Earth Eleven. However, it was blocked by Shinsuke's Ginga Rocket.
Slideshow
Edit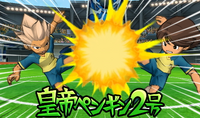 Ad blocker interference detected!
Wikia is a free-to-use site that makes money from advertising. We have a modified experience for viewers using ad blockers

Wikia is not accessible if you've made further modifications. Remove the custom ad blocker rule(s) and the page will load as expected.