Kazanrai
JP name
カザンライ
Dub name
None
Data
Type
Element
Characteristic
Shoot Chain
Power
190
Shibire damage
5
User
1
Evolution
Normal → 改 → 真 → 極 → 神
TP Consumption
Galaxy
85
Debut
Game
Inazuma Eleven GO Galaxy
Anime
Episode 030
Kazanrai (カザンライ, lit. Volcanic Thunderstorm) is a shoot hissatsu used by Rodan Gasgus.
It was first used by Rodan in episode 30, easily scoring the first goal of Gurdon Eleven.
It was used again in episode 37 in the match of Earth Eleven and Faram Dite. Rodan used it to score a goal but it failed as Ibuki Munemasa used his new hissatsu, Gekirin Dunk, and succesfully caught the ball.
It was used again in episode 38 by Rodan. Also this time, Rodan used it to score a goal but it failed again as Nishizono Shinsuke used Buttobi Punch and succesfully stopped the shoot.
The user interlocks his hands and places them above his head, as the background changes to an erupting volcano with lightning bolts flickering around it. The user then spins and jumps up, kicking the ball as it shoots towards the goalpost in a lightning-fire combination.
Slideshow
Edit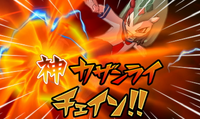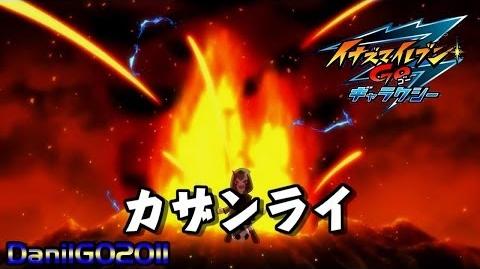 Ad blocker interference detected!
Wikia is a free-to-use site that makes money from advertising. We have a modified experience for viewers using ad blockers

Wikia is not accessible if you've made further modifications. Remove the custom ad blocker rule(s) and the page will load as expected.