The Inazuma Japan Withdrawal Test is the test given to every player of Inazuma Japan to get a chance of leaving the team.
In episode 5, Kuroiwa proposed the Inazuma Japan Withdrawal Test. The test was held at the Odaiba Soccer Garden, with the whole stadium full with fans cheering Shinsei Inazuma Japan on. The test was a penalty kick, which the participant had to take five shots of. Although it was a penalty kick, there was no goalkeeper.
The actual test was a penalty kick shot, which each of them took separately without a goalkeeper. If they missed the goal five times in a row, they passed the test and had the option of leaving. But if they scored at least once, they failed, and had to stay in the team. The test ended with everyone failing, and staying in the team.
Participated/Non-participated members
Edit
(In order of whom took the test)
Participated
Edit
Non-participants
Edit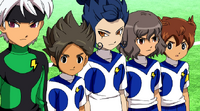 Even if they succeeded and dropped out of the team, they still would have got their contracts fulfilled so that they could do what they'd like with it.
In the game, the direction of the fifth shoot depends on the direction you point to. If you haven't save your data and shoots outside the goalpost, then it will be game over.   
Ad blocker interference detected!
Wikia is a free-to-use site that makes money from advertising. We have a modified experience for viewers using ad blockers

Wikia is not accessible if you've made further modifications. Remove the custom ad blocker rule(s) and the page will load as expected.