Home
Talk

0
1,175pages on
this wiki
Welcome to the Inazuma Eleven GO Galaxy Wiki!
The Inazuma Eleven GO Galaxy Wiki is an encyclopedia about everything related to the Inazuma Eleven GO Galaxy world.
We need your help to make this wiki better!
You can help this wiki grow by editing articles.
Help Out!
Administration Team
This wiki is still not "complete" as of now. Therefore, with this certain reason in mind, and for building a user-friendly spirit of editing, we gladly welcome you to help us edit this wiki. We are glad to have you in this small wiki of ours, in the whole wiki network, and we hope that you will stay and help us out with our work.


For starters, you may want to check out the help pages for our edition format. If you are experienced with source edits, then we shall introduce the templates to you. Use the templates for better organization in articles.
We require your help and hope that you'll contribute!

Following users have been categorized as admins in the Inazuma Eleven GO Galaxy Wiki. If you have any issues regarding anything in the wiki, feel free to contact any one of the following:
Poll
Are you enjoying the Galaxy game?
Anime
Current Episode:
Episode 041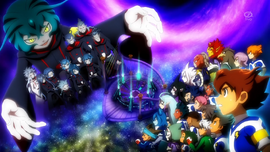 The Soul on Rampage! (暴走する獣!, Bōsō suru Souru!) is the forty-first episode of the Inazuma Eleven GO Galaxy series.
Earth Eleven sank into despair as Bitway Ozrock unleashed his nightmarish Soul, Ixaal, which easily scored a goal against Earth Eleven's Soul defense. The worse was to come as Ixal Fleet activated their Soul-rampaging hissatsu tactic, Berserk Ray which caused all Earth Eleven's Souls to go berserk and resulted in two own goals against Earth Eleven! At the nick of time, Sarjes Rugu and Acrous Obies, in their Pixie forms, appeared and shattered Berserk Ray with their powers! More surprises came as suddenly a group of Gurdon's Anti-Machine Faction members descended along with Shitennou, who were saved by the Anti-Machine Faction members and returned to aid Earth Eleven! More were to come as the the captains of the previous teams Earth Eleven faced, Kazerma Woorg, Powai Pichori, Arbega Gordon, and the son of Banda Koloogyu, Banda Koloogyu Jr came to help as well! With Shinsuke and Zanakurou also joining, Galaxy Eleven replaced Earth Eleven during the second half against Ixal Fleet. Galaxy Eleven played well with Arbega able to protect the goal with Gouryuu, but he was injured in the process and Shinsuke took up the role of defending the galaxy's goalpost! The match that decided on the galaxy's fate raged on...
Next Episode: Episode 042