Home
Talk

0
751pages on
this wiki
Welcome to the Inazuma Eleven GO Galaxy Wiki!
The Inazuma Eleven GO Galaxy Wiki is an encyclopedia about everything related to the Inazuma Eleven GO Galaxy world.
We need your help to make this wiki better!
You can help this wiki grow by editing articles.
Help Out!
Administration Team
This wiki is still not "complete" as of now. Therefore, with this certain reason in mind, and for building a user-friendly spirit of editing, we gladly welcome you to help us edit this wiki. We are glad to have you in this small wiki of ours, in the whole wiki network, and we hope that you will stay and help us out with our work.


For starters, you may want to check out the help pages for our edition format. If you are experienced with source edits, then we shall introduce the templates to you. Use the templates for better organization in articles.
We require your help and hope that you'll contribute!

Following users have been categorized as admins in the Inazuma Eleven GO Galaxy Wiki. If you have any issues regarding anything in the wiki, feel free to contact any one of the following:
Poll
Are you enjoying the Galaxy game?
Anime
Current Episode:
Episode 029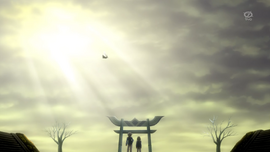 The Warriors who Threw Tway their Wings (翼を捨てた戦士たち, Tsubasa O Suteta Senshitachi) is the twenty-ninth episode of the Inazuma Eleven GO Galaxy series.
As Shindou and Ibuki attempted to get back to Galaxy Nauts Gou, they were rescued by the leader of the eastern tribe, Roglos Gordon. As the two asked about the location of the red stone, Roglos brought them even more shocking news about the two factions. Meanwhile, Earth Eleven were told that Shindou and Ibuki would surely return to the match of the next day, but couldn't return now for certain reasons...
The next morning, Shindou and Ibuki got up and watched Roglos flying, though the next moment the duo were brought up to the sky and dropped off towards a volcano! What was the elder thinking?
Next Episode: Episode 030