---
Ichikawa Zanakurou (市川座名九郎) is a forward for Earth Eleven.
Appearance
Edit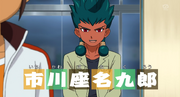 Ichikawa has a dark tanned skin-tone, dark green spiky hair which is styled into two ponytails that rest on his shoulders, which are shaped like spheres. His eyes have a red iris and black pupils in what looks like a exclamation mark (!), but shaped slightly differently. His casual clothes are a cream shirt with his buttons undone, and wears a black shirt underneath. He also wears black trousers and dark blue shoes.
Personality
Edit
Although he has only been seen for a short while, he was seen to be very polite towards the members of Earth Eleven.
Ichikawa was introduced by Endou Mamoru in episode 18 to the other members of Earth Eleven. Being one of the people to join Earth Eleven, he was grateful to have finally meet the others.
In episode 19, he was introduced by Minaho Kazuto that he came from the Ichikawa family, which is famous for Kabuki. He showed off his soccer skills while playing against Inazuma Japan. He easily dribbled past Tetsukado Shin and also scored a goal. He also played a practice match with Raimon. 
In episode 22 he was benched along with Nishizono Shinsuke, while the match of Earth Eleven and Sandorius Eleven was on-going.
He started to play in the match in episode 23, and spoke to Konoha as he noticed her potential of using Soul. Soon enough, she stole the ball from Barga Zachs using her Soul Fox, and it went to Ichikawa who then used his Soul Lion which scored the second goal for Earth Eleven.
Game Exclusive Teams
Edit
He is a Kabuki actor.
He greatly resembles Zanark Avalonic, a character from the Inazuma Eleven GO Chrono Stone series.
It's known that all this time, he was being trained by Endou Mamoru.
Ad blocker interference detected!
Wikia is a free-to-use site that makes money from advertising. We have a modified experience for viewers using ad blockers

Wikia is not accessible if you've made further modifications. Remove the custom ad blocker rule(s) and the page will load as expected.