Ginga Rocket
JP name
ぎんがロケット
Dub name
None
Data
Type
Element
Characteristic
Normal
User
1
Evolution
Normal → G2 → G3 → G4 → GX → GO
TP Consumption
Galaxy
70
Debut
Game
Inazuma Eleven GO Galaxy
Anime
Episode 038
Ginga Rocket (ぎんがロケット) is a catch hissatsu used by Nishizono Shinsuke.
It was first used in episode 38 in the match of Earth Eleven and Faram Dite. Shinsuke used it to stop Tsurugi Kyousuke's Bicycle Sword in which he succesfully defended the goal.
This hissatsu will be unlocked in the second half of the match between Galaxy Eleven, when they replace Earth Eleven in the second half, and Ixal Fleet. Ixal Fleet succesfully dribbles towards the goal and Shinsuke was unsure if he could stop the shoot. However, Ibuki Munemasa helps him by saying some words and after that, Shinsuke uses Ginga Rocket and succesfully blocks two shoots of Ixal Fleet.
Slideshow
Edit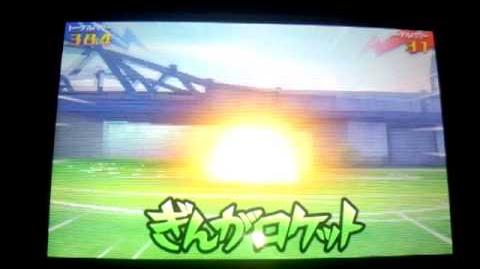 Ad blocker interference detected!
Wikia is a free-to-use site that makes money from advertising. We have a modified experience for viewers using ad blockers

Wikia is not accessible if you've made further modifications. Remove the custom ad blocker rule(s) and the page will load as expected.