Einsatz
JP name
アインザッツ
Dub name
None
Data
Type
Element
Characteristic
Shoot Block
User
1
Evolution
Normal → G2 → G3 → G4 → GX → GO
TP Consumption
Debut
Game
Inazuma Eleven GO Galaxy
Anime
Episode 003
Einsatz  (アインザッツ, Ainzattsu) is a block hissatsu that is used by Shindou Takuto.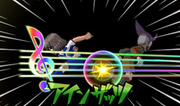 This hissatsu was first used in
episode 3
by
Shindou Takuto
in the match of
Inazuma Japan
and
Fire Dragon
. Shindou used it to stop
Lee Chunyun
's
Rapid Fire
and he succeeded in doing it.
It was used again in episode 8 in the match against Shamshir to block a member of Shamshir from getting any closer to the goal. Shindou succeeded in stealing the ball from the opponent.
It was used again in episode 9 in the match agsinst Shamshir. As Kusaka failed to stop the opponent, Shindou used Einsatz to steal the ball, in which he succeeded.
It was used again in episode 12 in the match of Inazuma Japan and Mach Tiger. Tamugan Jar advanced through the field and was about to shoot. However, Shindou used Einsatz and stole the ball from Tamugan before he could even shoot the ball.
Shindou used it again in episode 16 in the match against Storm Wolf. He used it when Ibuki Munemasa finally realized that you need all the players to defend the goal and shouted that he would leave it to Shindou to stop Ruslan Kasimov. Shindou smiled in response and succesfully blocked the ball, which was being shot by Ruslan.
It was used again in episode 31 in the Grand Celesta Galaxy tournament in the match of Earth Eleven and Gurdon Eleven. Shindou succesfully stole the ball from the opponent by using it.
It appeared again in episode 37 in the match of Earth Eleven and Faram Dite. Shindou succeeded in stealing the ball from Rodan Gasgus and stopped him from approaching further into the field.
The user stands in front of the opponent and swings his arms back and then forwards. Two yellow lines appear while the user swings with his arms forwards. When the opponent comes, the user charges ahead and steals the ball with five color lines and a music note at the end of the lines. After stealing the ball, the user leaves.
Slideshow
Edit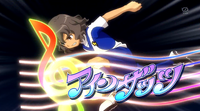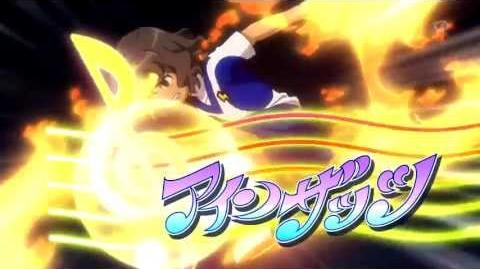 Ad blocker interference detected!
Wikia is a free-to-use site that makes money from advertising. We have a modified experience for viewers using ad blockers

Wikia is not accessible if you've made further modifications. Remove the custom ad blocker rule(s) and the page will load as expected.