Dai Sabaku Sunaarashi (大砂漠砂嵐) is a hissatsu tactic used by Shamshir.
Shamshir used it for the first time in Episode 9 in the match against Inazuma Japan. They used it to pass Raimon's defense, which were Tetsukado Shin, Manabe Jinichirou and Minaho Kazuto. Shindou Takuto tried to stop Dai Sabaku Sunaarashi on his own but failed to do so. Later, it was finally broken by Kusaka Ryuuji in his Berseker Mode, who charged towards the tactic.
Slideshow
Edit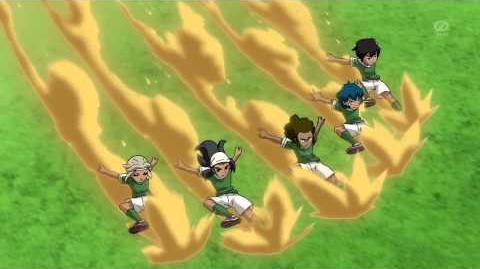 Ad blocker interference detected!
Wikia is a free-to-use site that makes money from advertising. We have a modified experience for viewers using ad blockers

Wikia is not accessible if you've made further modifications. Remove the custom ad blocker rule(s) and the page will load as expected.