Cole LaRuze (コール・ラルーゼ), also nicknamed Coral (コーラル), is the captain and midfielder of Australia's national youth soccer team Big Waves.
Appearance
Edit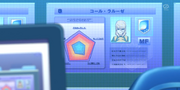 Cole has long blonde hair, covering his forehead and rests just above his shoulders. He is quite tall, has a pale skin tone and has light green eyes. He wears the Big Waves uniform and the red captain's band.
Personality
Edit
Cole took the match with Inazuma Japan very seriously, as shown before the match when he said that they had to win it, and after as he looked very frustrated that he had lost.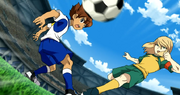 Cole appeared in the
sixth episode
, along with the rest of Big Waves.
Marsha Ark
said to him that "the time has come", in which he agreed. He said that "our future depends on this, so losing is not on option."; however, it's unknown why their future depends on the results of that match. Cole scored two goals for Big Waves in the match against
Inazuma Japan
, with his hissatsu
Megalodon
. However, his third attempt of Megalodon was stopped by
Ibuki
's new hissatsu,
Wild Dunk
. The episode ended with the score of 2-1 to Big Waves.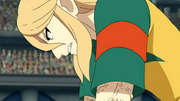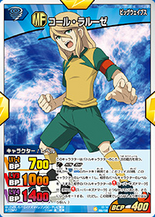 In episode 7, he and the rest of his team continued to play against Inazuma Japan. Big Waves wasn't letting them past their defense with their hissatsu tactics Suck Out, so Inazumma Japan never got a chance to shoot. Nozaki Sakura nearly got out of it with Shindou using his Kami no Takuto, but it failed. However, Sakura told Shindou to use Kami no Takuto FI whilst she was in Suck Out, and she succeeded to get out, which led to Manabe Jinichirou scoring the third and final goal for Inazuma Japan, in which they lost 3-2 . Matatagi Hayato had scored with his new hissatsu Parkour Attack, and Manabe Jinichirou had scored with a shoot which he miss kicked. When the whistle blew and the match was over, Cole was upset about loosing. Strangely, veins started popping out of his arms, and started moving in a weird pattern. This could also be related to the green slime that appeared with Fire Dragon's team.
At level 99
GP: 153
TP: 126
Kick: 116
Dribbling: 144
Block: 102
Catch: 109
Technique: 123
Speed: 104
Stamina: 95
Lucky: 90
Game Exclusive Teams
Edit
Ad blocker interference detected!
Wikia is a free-to-use site that makes money from advertising. We have a modified experience for viewers using ad blockers

Wikia is not accessible if you've made further modifications. Remove the custom ad blocker rule(s) and the page will load as expected.